The detention of Rahat Fateh Ali Khan at the Delhi airport has caused concern in Islamabad. Interior Minister Rehman Malik has stepped in personally to look into the singer's detention over undeclared foreign currency. Malik called up the Pakistan High Commission in New Delhi and spoke with the envoy, Shahid Malik. The minister asked for details about Rahat's detention at the Indira Gandhi International Airport. He has also asked the Pakistani High Commissioner to monitor the matter closely. As per a statement issued last night, the Mr Malik had said that he was looking into the matter.

Rahat was held at the Delhi airport on Sunday night for illegally carrying undeclared currency worth US $ 1.24 lakh. He was flying out to Dubai when he was intercepted by personnel from the Directorate of Revenue Intelligence (DRI).His manager Chitresh Srivastava was also held.

The foreign currency was not declared to Customs officials after the immigration checks, a DRI official said. The troupe was on in its way to Lahore via Dubai by an Emirates flight, the official added.

The recovered foreign currency included US $10,000 and US $8,600 in demand drafts and some Travellers Cheques, a DRI official said. The singer is to be produced in court today.

This is not the first time Rahat has found himself on the wrong side of law in India. In July last year, organisers of a concert in Gurgaon filed a police complaint against him for not turning up for a show.

Rahat Fateh Ali Khan, the 37-year-old nephew of legendary Pakistani singer Nusrat Fateh Ali Khan has crooned several Bollywood chart-busters, including the song 'Dil To Bachcha Hai Ji' from the movie 'Ishqiya' for which he won the Filmfare Award for Best Male Playback Singer this year. He was awarded the Filmfare Award for Best Male Playback Singer this year for the 'Dil To Bachcha Hai Ji' number from 'Ishqiya'.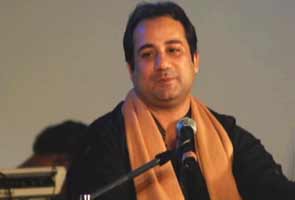 Rahat fateh ali khan